20+ Years of Experience & Family Owned
"Old school company in a mega fleet world"
As a family-owned business, Platinum Express has maintained hometown roots in the Dayton, OH area while growing over the last 2 decades to serve all 48 states in the continental U.S. From just 4 trucks in 1999 to more than 65 operating under its name today, Platinum continues to hold true to its old school company values. Many of our drivers have been with us for 10+ years and we consider all of them to be an extension of our family. At Platinum, we don't know our drivers by truck number – we know them by NAME!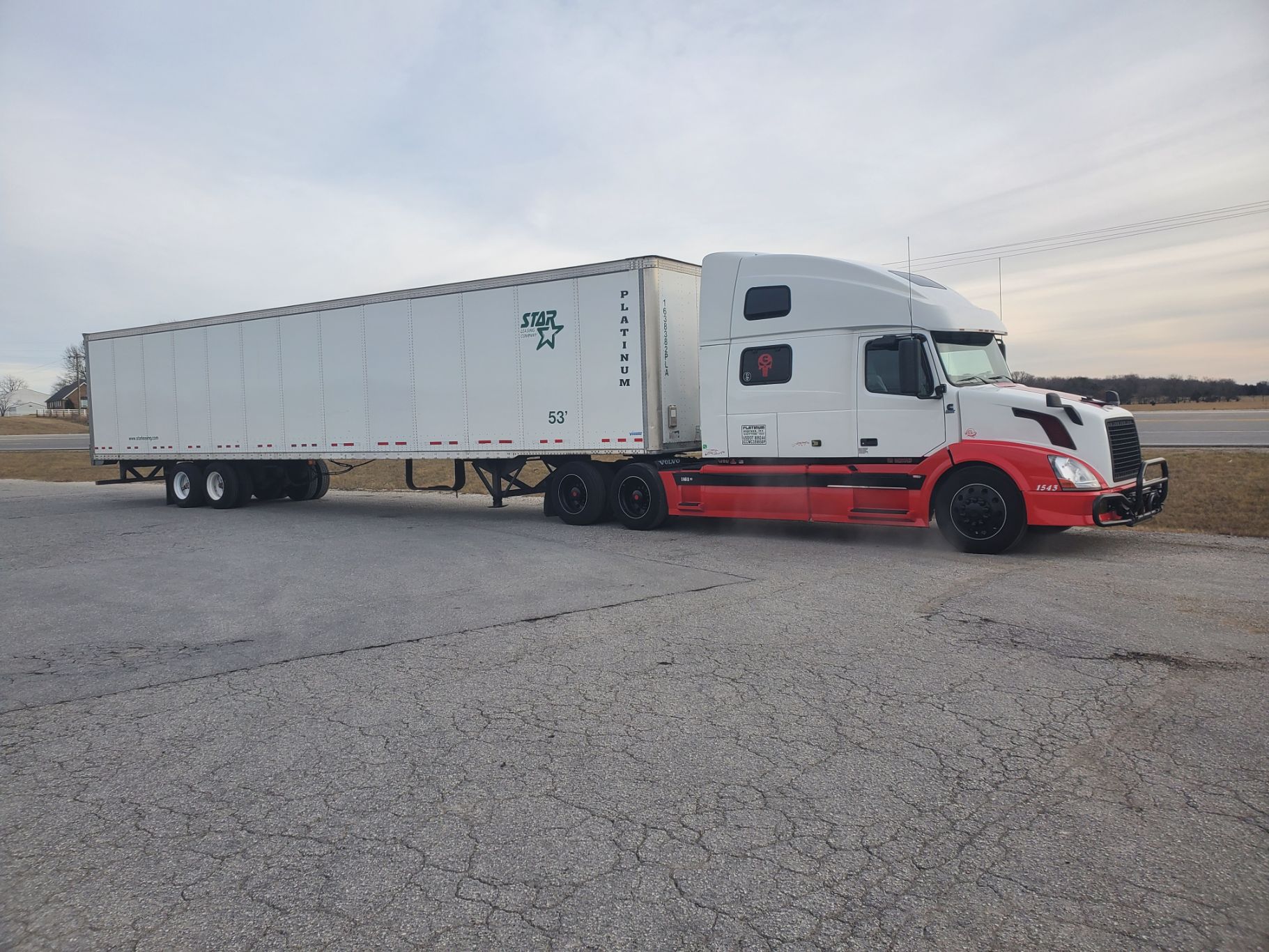 Equipment – Trucks & Trailers
Not only do Platinum Express drivers run in newer trucks, they enjoy the benefit of having one call (to us) for all of their maintenance needs. All requests are responded to promptly to keep our drivers and freight moving in safe, reliable equipment.
Additionally, Owner Operators at Platinum take comfort in knowing they'll be hooking their trucks onto new trailers. There's nothing worse than hooking a nice, new truck onto an old trailer that hasn't been taken care of. We want our drivers to take pride in their ride and have confidence in its performance.
Your Convenience is Our #1 Concern
Let us take the headaches out of being an Owner Operator. Platinum handles all your business management needs in-house. From getting the proper license plates to roadside assistance – we're your 1st call to get things handled at no extra cost. Additionally, we have a phenomenal discount program on fuel and equipment with Love's and we pass the savings on 100% to you.
Freight & Flexibility
At Platinum Express, there's no shortage of freight to keep you moving as much as you'd like. Need to be home on the weekends? We can make that happen. Have an upcoming ball game or dance recital you can't miss? We'll get you there. Prefer to stay out longer and rack up the miles? We've got plenty of freight to make that happen! The bottom line is: not only will we get you a route to make sure your 34 hour restart is done at home, we'll make sure you have the work/life balance you deserve.
New Owner Operator Assistance
Considering becoming an Owner Operator? Not sure where or how to start? Platinum Express has everything 1st-time Owner Operators need to find the freedom of having their own mini-business. With over 20+ years of experience working with owner operators, we can walk you through each step of the process.
Relaxed Atmosphere
Platinum has a relaxed, productive atmosphere that allows us to give our drivers and customers the attention they deserve. It's not uncommon for drivers who happen to be at the Dayton terminal on a break to talk with our owner, pet the yard dog and enjoy a meal with our staff. In fact, we find having an inviting open door policy is what helps us stay in tune with the things that matter most to our drivers.
Pay & MIles – Owner Operator
 2,800 miles or more is the norm for Platinum drivers each week.
"Working here at Platinum Express has brought me and the wife as an Owner Operator great opportunities. They worked with us as a team and made sure we got the miles we wanted and the road to us was an adventure. The last 7yrs as a team we have done and seen stuff we never thought we would. Now I am solo. They work with me to get me home when I want and still make the money I need. Looking for a family instead of a number this American family owned business is the way to go. A very easy company to work for."
"I am proud to say that this will be my third year working with Platinum Express. I truly enjoy coming into such a family friendly and caring atmosphere. This is a family owned business that's truly different than the rest and you see it every day. I left the restaurant industry to come to be a dispatcher and I can truly say that Platinum has been able to give me all the tools needed and more to be able to succeed at my job. Platinum has changed the way I look at trucking and for the better. "
Have questions or need more information?
Get in contact with the Platinum Express team now.